The annual Medicare Advantage Open Enrollment period (OEP) began January 1 and will run through March 31. If you're scratching your head and having a Deja vu moment thinking you just went through open enrollment, you're neither alone nor wrong. Medicare Open Enrollment (AEP) just took place and ended last month. Confused yet? There are some key and very important differences between the two enrollment periods. So, let's take a closer look. And then we'll get you ready for OEP.
What's the Difference Between Medicare Open Enrollment and Medicare Advantage Open Enrollment?
You might be thinking Medicare is Medicare, right?! Well, not exactly. There are two main options for Medicare coverage – Original Medicare and Medicare Advantage. To learn more about the differences between these two options, CLICK HERE.
As for the open enrollment periods, the main difference between Medicare Open Enrollment and Medicare Advantage Open Enrollment is who is eligible to make insurance coverage selections or changes during them. The keyword that makes all the difference is Advantage. Medicare Open Enrollment is the annual period when anyone who has Medicare can make coverage changes. Whereas Medicare Advantage Open Enrollment is only available to individuals currently enrolled in a Medicare Advantage plan, commonly referred to as Part C.
The other difference between the two enrollment periods is simply the timing they take place. Both happen every year, but as you may recall, or even participated in, Medicare Open Enrollment is from October 15 – December 7, and Medicare Advantage Open Enrollment is taking place right now.
What Can Medicare Advantage Open Enrollment Provide You
As we previously mentioned, the Medicare Advantage Open Enrollment period is only for individuals currently enrolled in a Medicare Advantage plan. It doesn't matter if you just signed up last month during the annual open enrollment period or if you've had your plan for years; if you currently have Medicare Advantage, you can participate and make changes to your plan.
During Medicare Advantage Open Enrollment, if you're eligible, you can make the following changes:
Switch from one Medicare Advantage plan to another with or without drug coverage.
Switch from a Medicare Advantage plan to Original Medicare with or without a Part D prescription drug plan.
If you switch Medicare Advantage plans or elect to go back to Original Medicare, your new coverage will start the first day of the month after your new plan gets your request for coverage. For example, if you switch to a new Medicare Advantage plan on January 15, coverage will take effect on February 1. It's important to note, however, if you go back to an Original Medicare plan, you may not be able to buy a Medicare supplement insurance (Medigap) policy.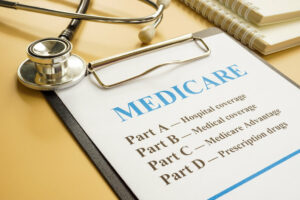 Why Change Your Medicare Advantage Plan?
You may be wondering why if you just selected an insurance plan, you would need to change it so soon after. Well, perhaps you enrolled in a plan, and it isn't exactly what you thought it would be. Or maybe you were rushed or pushed into something you didn't want. Perhaps your favorite physician is not part of your current plan and you weren't aware of that until it was too late. Now is your opportunity to review your coverage, make necessary changes, and get what you want.
During this additional opportunity to make a change, you should take some time to think about your experience with your plan so far. Review your current plan and its benefits. When comparing Medicare Advantage plans, you need to look at both costs and benefits.
Private insurance companies provide these plans, so costs, such as your premiums, deductibles, copays and coinsurance, will vary. Make sure you're comfortable with your costs and out-of-pocket expenses.
Benefits will also vary by each insurance company. For example, make sure your selected plan offers the wellness services, fitness programs, or mail-order pharmacy services you desire to have. In addition, are you receiving additional coverage for dental, vision, or hearing care? These are all things you need to consider when settling on a final plan to enroll in for the year.
If you want to make a change, you have until March 31 to do it, so don't wait! Once you make your selection and submit it, that will be your plan for the rest of the year, unless you have a life change that qualifies you for a special enrollment period.
Contact VIPcare For Medicare Advantage Assistance
Medicare is confusing no matter the time of year. There are so many components to it that you have to consider when selecting the right options for you. What works for you may not work for your spouse or friend. You have to find a plan that caters to your needs and health.
If you need assistance or have any questions regarding Medicare Advantage, contact VIPcare today. We will be happy to discuss your options and/or put you in contact with an agent that can assist you. Don't settle for a plan you're not satisfied with. Instead, get what you want during the Medicare Advantage Open Enrollment period.